The Grand Opening of China International Huangjiu Industry Expo 2022 & 28th Shaoxing Huangjiu Festival
On November 7th , China International Huangjiu Industry Expo 2022 and the 28th Shaoxing Huangjiu Festival were grand opening in Shaoxing Huangjiu town, Zhejiang Province. The Event are organized by China Alcoholic Drinks Association (CADA) and Shaoxing Municipal People's Government. More than 100 Huangjiu companies and 1000 products participated in the exhibition. Opening Ceremony, China Huangjiu Development Forum, China Huangjiu International Exchange Summit 2022,China Huangjiu New Media (Digital Marketing) Forum were held At the same time.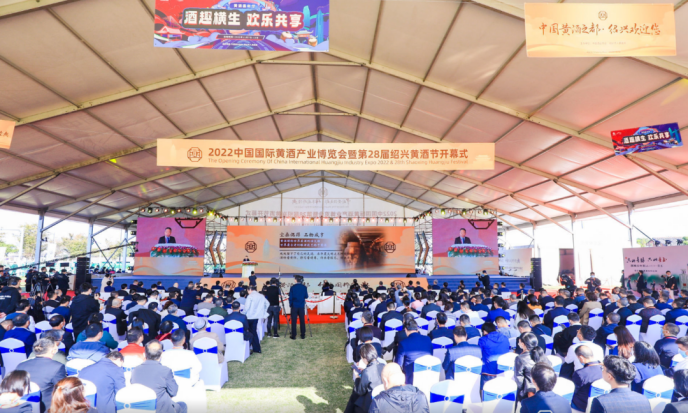 Song Shuyu (Chairman of China alcoholic & Drinks Association) said in the opening ceremony that Huangjiu industry should use systemic thinking to create Alcoholic economics, sort out the industry chain, open up upstream and downstream sectors and promote the integration development of its peripheral industries. As a quintessence of China, Huangjiu has been accompanying the Chinese nation through the long years and it will continue to be with us to glory in the new era.
Sheng Chunyue (Party Secretary of Shaoxing City) gave the welcoming speech and said Huangjiu is not only an asset for Shaoxing's economic and social development, but also a cultural treasure, which should be protected and advanced well. He hoped that Huangjiu would continue to be supported by CADA with a connecting thread for Huangjiu "growing global" to achieve mutual cooperation and win-win results.
China International Huangjiu Industry Expo is the only international expo of Huangjiu approved by the Ministry of Commerce. The China Shaoxing Huangjiu Festival was held in 1990 and has been held annually since then. The capital of Chinese Huangjiu inherits the quintessence of Chinese culture. Today, the Huangjiu industry has embarked on the road of rejuvenation, and the ancient Huangjiu is writing a new legend. We hope that the Chinese rice wine industry will take this conference as a new starting point, lead and promote the Huangjiu industry to create a colorful and fragrant new chapter of development.
Tuyên bố miễn trừ trách nhiệm: Bài viết này được sao chép từ các phương tiện khác. Mục đích của việc in lại là để truyền tải thêm thông tin. Điều đó không có nghĩa là trang web này đồng ý với quan điểm của nó và chịu trách nhiệm về tính xác thực của nó và không chịu bất kỳ trách nhiệm pháp lý nào. Tất cả tài nguyên trên trang web này được thu thập trên Internet. Mục đích chia sẻ chỉ dành cho việc học và tham khảo của mọi người. Nếu có vi phạm bản quyền hoặc sở hữu trí tuệ, vui lòng để lại tin nhắn cho chúng tôi.